Just did this and I thought it would be good to write it down for anyone interested.
Get the engine to operating temp before doing anything.
First, tuning the Weber;
1. Screw mixture screw all the way in. The screw is 'hidden' - see diagram below. You'll need a flathead to turn it. It'll probably have stalled by now if you still had the engine running.
2. Screw it back out two and a half turns. Restart.
3. Adjust idle screw until idling at about 900rpm.
4. Tighten mixture screw back in slowly until at 800rpm.
5. Take it to a rolling road so they can set it up properly with a sniffer and the right jets if still not good!
Idle screw: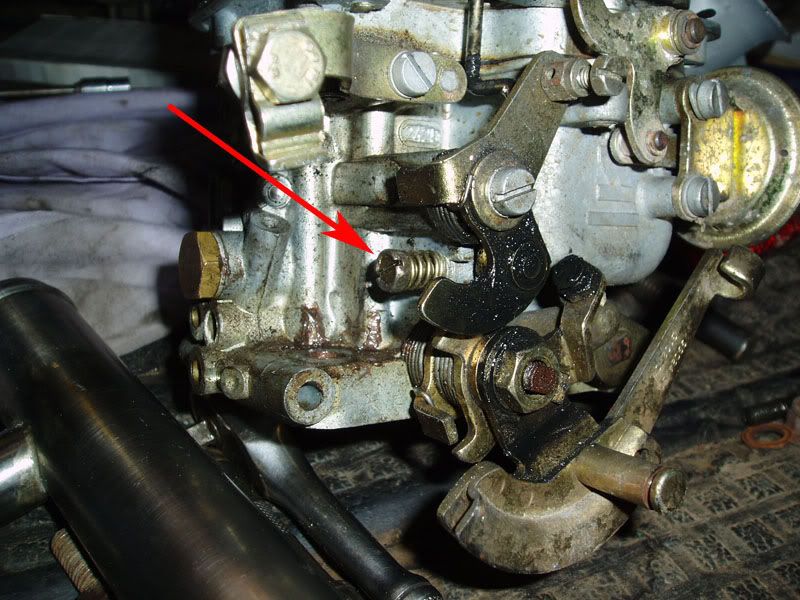 Mixture screw:
Second, timing;
1. Loosen pinch bolt on distributor until the dizzy can be turned (but not so loose it needs no resistance to turn!).
2. Remove vacuum pipe(s) from dizzy and block off with a bolt.
3. Hook up your timing light according to instructions.
4. Start engine and adjust idle to screw until it sits at about 2200rpm. This is easier with a timing gun that shows RPM, otherwise expect to run back and forth from the engine bay to the dash RPM counter.
5. Point gun into timing hole (this is like an oblong cutout near where the gearbox meets the engine, if looking straight down from above the engine).
4. Slowly turn dizzy until the mark (a shiny ball bearing set into the flywheel) is visible in the middle of the hole. There's supposed to be a 'Z' near the ball too but I couldn't see this, probably due to grime.
5. Adjust idle screw again until it sits at 2200rpm again, then recheck the mark.
6. Continue doing one then the other until 2200rpm and the mark is visible and steady. Tighten distributor pinch bolt back up.
7. Turn idle screw back to 800rpm.
8. Reconnect vaccuum hoses.