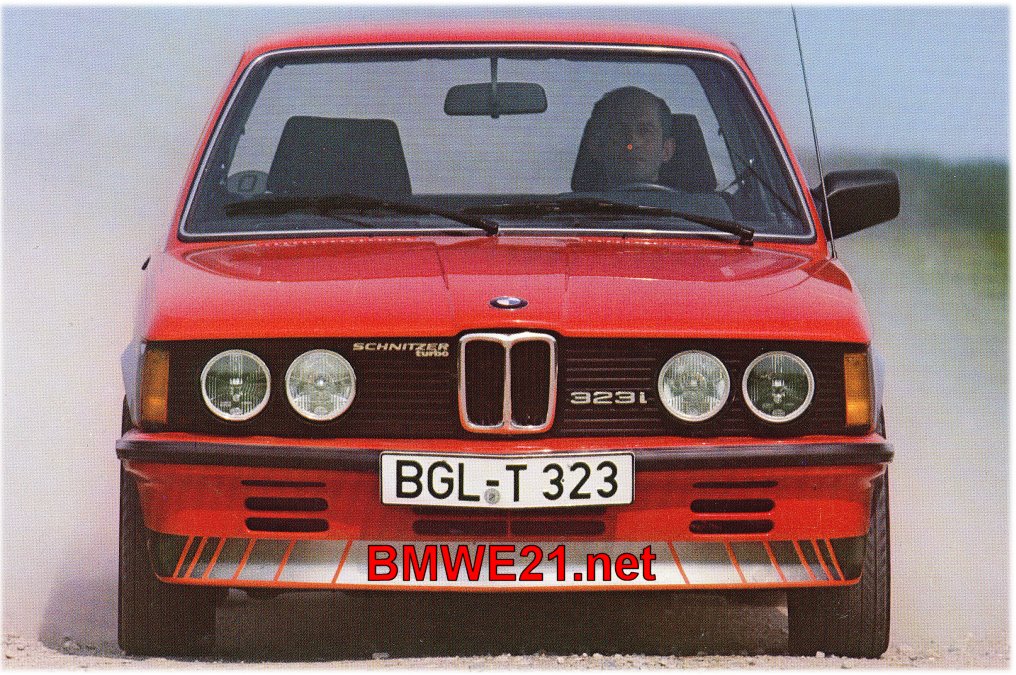 Schnitzer used their experience gathered with their racing champion the 1978 E21 320 turbo using a 1426cc M10 engine developing 400 BHP.
They took a stock 323i M20 engine, lowered compression and fitted a KKK turbo unit set at 0.55 Bar combined with a huge intercooler. The combination of a waste gate and bypass valve helped reduce turbo lag and nervous engine response. Modifications included the intake manifold, the cylinder head and the K-Jet fuel distributor.
The important figures: max power 200 BHP @ 5.000 RPM, 272 NM @ 4.500 RPM.
Top speed 225 KMH, acceleration 0-100 KMH 6.7 sec.
Further modifications to the chassis, suspension and driveline (compared to stock 323i):
25% LSD with 3.45 ratio
diff cover with big fins for extra cooling capacity and 2 mounts (quite like Alpina)
uprated suspension with progressive springs and Bilstein gas pressure shocks
power steering
93 litre long range fuel tank
6+7Jx15"  BBS alloys with 195/50 and 205/50 tyres
turbo pressure gauge
240 KMH odometer
sports seats
modified stainless exhaust system
deep front spoiler (resembling the BMW Motorsport front spoiler)
trunklid spoiler
decent front and rear badging
optional: Schnitzer striping all around.
Here's a few pages from the original brochure with mods explained and tech specs. On the last photo you see Herbert Schnitzer together with his star driver in the Group 5 320 turbo: Hans Joachim Stuck.
Click photos to enlarge