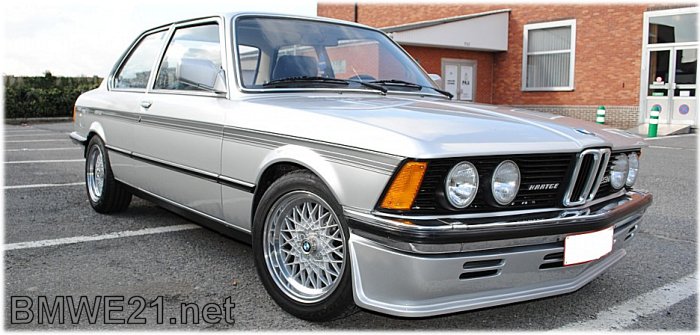 Hartge offered a choice of 2 E21 models. The 323i RS using the 2.3 litre K-Jet M20 power plant and the 335i using the 3.5 litre L-Jet M30 from the 635CSi.
323i RS: clearly based on the stock 323i, Hartge modified the cylinder head, fitted a faster camshaft and a exhaust manifold and exhaust system with better flow. A trunklid spoiler, decent badging and a leather Hartge steering wheel made the car look sportier. And so did the ASS sports seats in Hartge style cloth. Handling improvements were a 25 mm lowered suspension combined with Bilstein gas pressure shocks, 15" BBS alloys with 205/50 and 225/50 tires. Optional was a set of 3 gauges including oil pressure and oil temperature to be fitted on top of the dash.
Specs: 180 BHP @ 6.200 RPM, 220 NM @ 4.300 RPM. Top speed 215 KMH, acceleration 0-100 KMH 7.5 sec.
335i: this was the big step further: as said before the big 3.5 litre M30 engine and matching gearbox from the 635CSi. The engine was slightly modified as was the suspension to cope with the extra power. The rear subframe was reinforced, a 40% LSD with extra mount was fitted as well as stronger transaxles. The front brakes were uprated using 4 calliper brakes and 271 mm vented discs. Further mods (compared to 323i RS): adjustable front and rear sway bars, front strut tower brace, deep front spoiler (again similar to the BMW Motorsport example), side mirrors sprayed in paint colour. The set of 3 gauges was also standard equipment on the H35 335i.
Specs: 240 BHP @ 5.500 RPM, 320 NM @ 4.000 RPM. Top speed 240 KMH, acceleration 0-100 KMH 6.4 sec.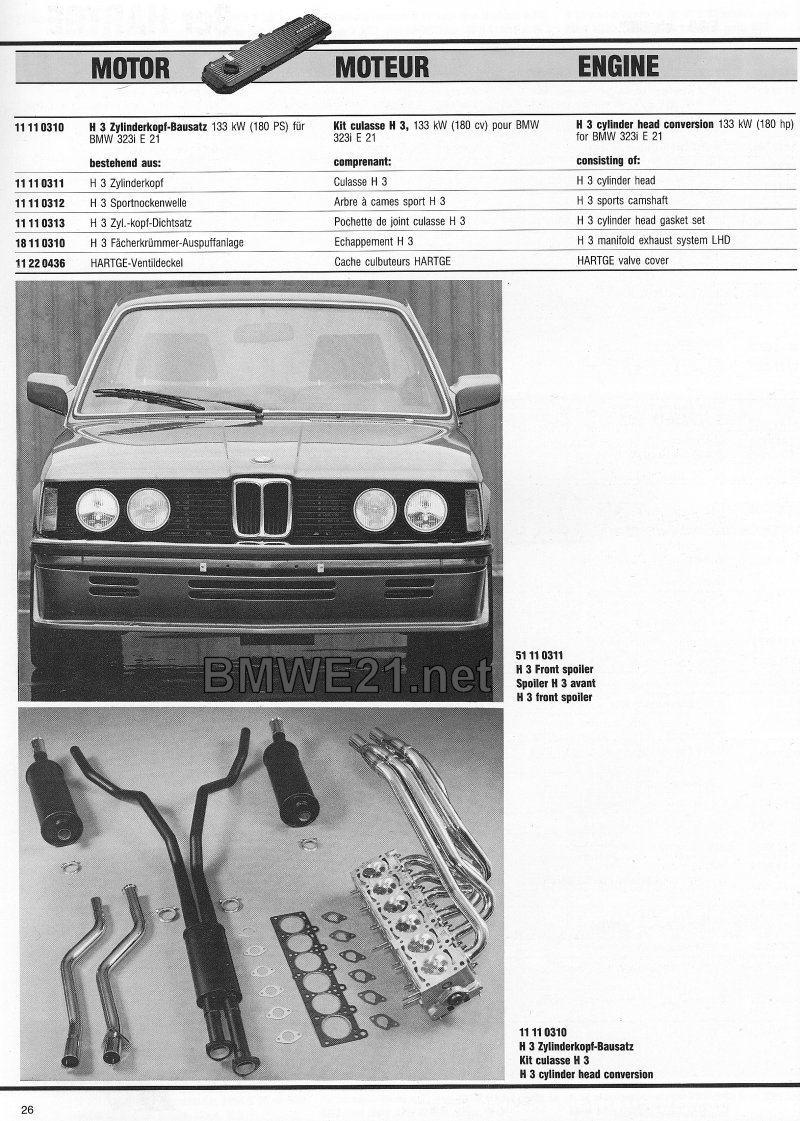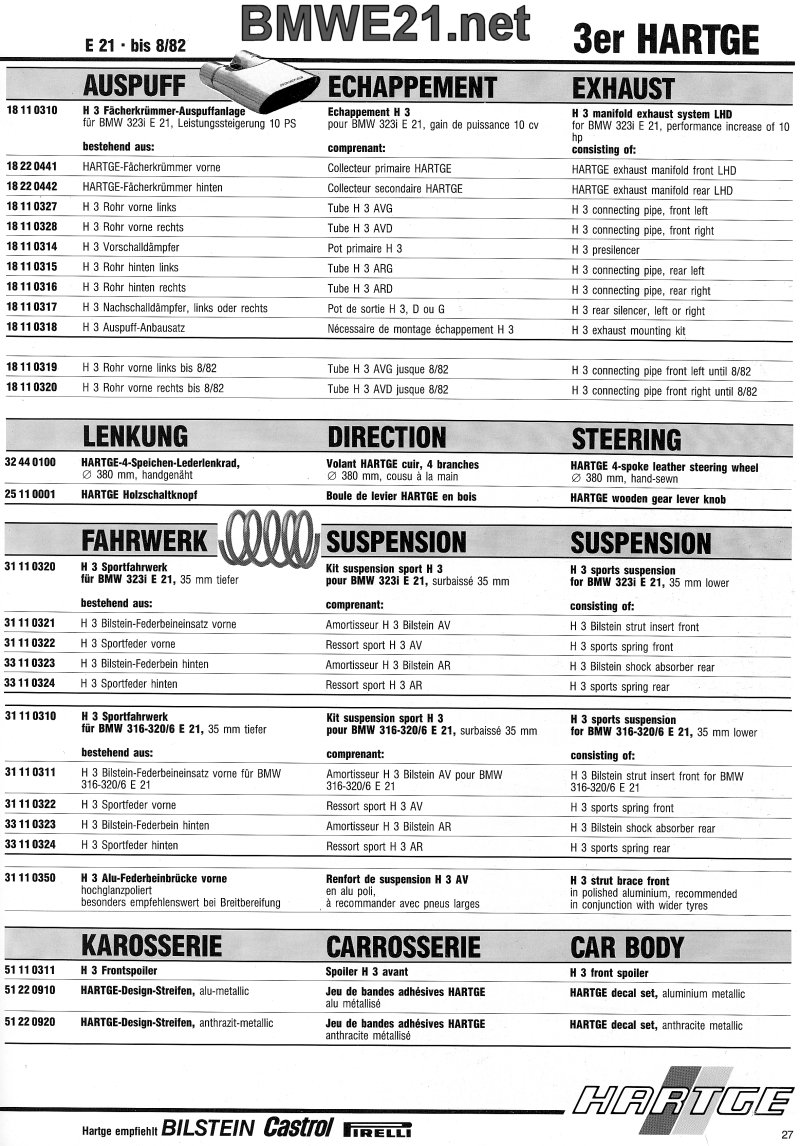 Detailed additional info from our long time member and Hartge specialist Gerrit on Hartge mods… helping you to establish if a car is a genuine Hartge or not. Some additional photos will be added asap!
The 335i or later H3 have an electrical fan and not a waterpump driven fan like with the M20 engines. The 335i also always had a 40% LSD and not the standard 25% like on the "323i RS". Optionally this diff could be equipped wit a belt driven oil cooler.
Drive shafts should be bigger on the h3 version. Seats either Recaro or ASS in special striped pattern. On my own H3 there was no Hartge production n° stamped on the engine block, but there was a Hartge logo stamp and production n° on the cylinder head, positioned at the intake side above cylinder 1.
Wheels would be BBS Mahle 6×15″ front and 7×15 rear. No info on the exaust and brake setup on the 335i apart from what is stated in brochures displayed above.
Suspension: customized Bilstein B8 dampers that have Hartge logo stamped, at least at the bottom of the rear shocks which have 5 height adjustment rings and not 4 like stock B8 or Alpina spec, or 2 like Bilstein B6.
Steering wheel is Momo, same style as E21 Alpina but with Momo on the lower right side and Hartge logo stamped on the lower left side. Center cover is also slightly different from Alpina version.